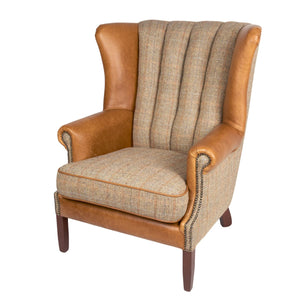 The Gregory Beautiful Fluted Armchair
Regular price £1,265.00 Sale
H110 x W90 x D90 cm
 A sumptuous armchair, originating from the original Wing design this model has a thick fluted back adding a modern twist to the classic sloping wings, scrolled arms, studs and piped detailing all of which define the original Wing chair. that features a number of details that add to its heritage appeal, this model combines old school appeal with the option of a modern twist depending on the coverings used.
the seating position is deep and relaxed with strong arms and a winged back to keep its occupant seated in total comfort.  A very popular modern classic
Upholstered in the beautiful Harris Tweed and Vintage leather.
With buttons, studs and legs that you can customise this is a great chair to compliment many of our sofa ranges.
FREE local delivery 
'Fast Track' Available in 2-4 weeks with this fabric and leather covering (as image here) 
Alternatively if you would like your Chair Custom made, please contact us to arrange an appointment to view our comprehensive range of Fabrics and Leather swatches.