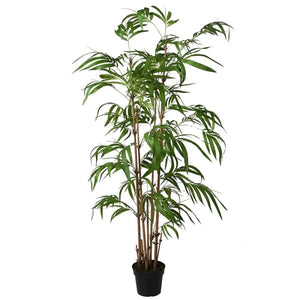 Tall Bamboo Plant in Pot
Regular price £245.00 Sale
Oriental artificial bamboo tree measures approximately 152 cm. This faux plant features stalks of bamboo to represent happiness, wealth and longevity.
Artificial Bamboo
Ideal to place in your hallway or living room, this artificial bamboo tree features long stalks complete with pot. Having been carefully handmade by experts, guests will not be able to guess that this is an artificial bamboo tree.
Tall Decorative Tree
Measuring approximately 152cm, this artificial bamboo tree arrives in a hard plastic black pot. Allowing the tree to be a standalone feature, you can place it inside your own decorative vase for a nice finishing touch. Keep out of direct sunlight and wipe clean with a damp cloth.