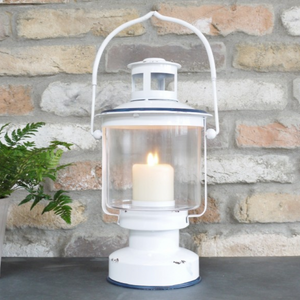 Small White Lantern
Regular price £35.00 Sale
H: 36cm W: 20cm D: 20cm
A sweet little lantern, hang it outside or sit it in the centre of your garden table for a soft glow.  It will shed new light with a vintage rustic, industrial style
The candle is protected for the breeze with the glass hurricane shade. and designed to fit most standard candles or tealights securing them safely in place while they burn.
The metal handle lets you elevate the presentation of these lanterns further still, with the ability to hand and display anywhere - indoors or out.
  Perfect for those who possess a wandering, bohemian spirit, these chic and stylish lantern brings out the beauty of the night sky to your home or doorstep, dancing in the flickering light of the flame within.