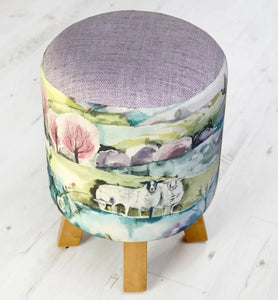 Monty Footstool Buttermere
Regular price £110.00 Sale
Meticulously crafted in the UK using durable materials, ensuring that this product will stand the test of time.
A versatile and stylish piece, perfect for the living room, bedroom, guest room and more.
This compact design provides a comfortable and supportive surface to rest your feet.
Introducing our bestselling Monty Footstool. This contemporary versatile round stool is designed and crafted in the UK. With a compact design, this adorable footstool features spruce legs making for a beautiful addition to any home. Overall, our small elegant Monty footstool is a versatile and practical piece of furniture that can enhance the comfort and functionality of your living space while adding a touch of style. Perfectly paired with our classic Buttermere print, this stylised watercolour design features curious sheep perched upon country hilltops on this bright and beautiful footstool.